Description:
JHZ5042JGKJZ high altitude working truck is new product of JIUHE group, set many function in one machine, specification, performance advanced than domestic same level products. Main features as follows:
1. lower weight, smaller size
lower weight: as per Automobile Association report, whole truck weight each lower 10%, fuel efficiency can improve 6%-8%, oil consumption can reduce 7%; whole truck weight each lower 100KG, fuel consumption per 100km can reach 0.3-0.6L, our truck lighter than traditional truck by 40%, so economy improve at least 28%;
whole machine smaller size, can adapt narrow workplace , flexible, compact structure, Low center of gravity, higher stability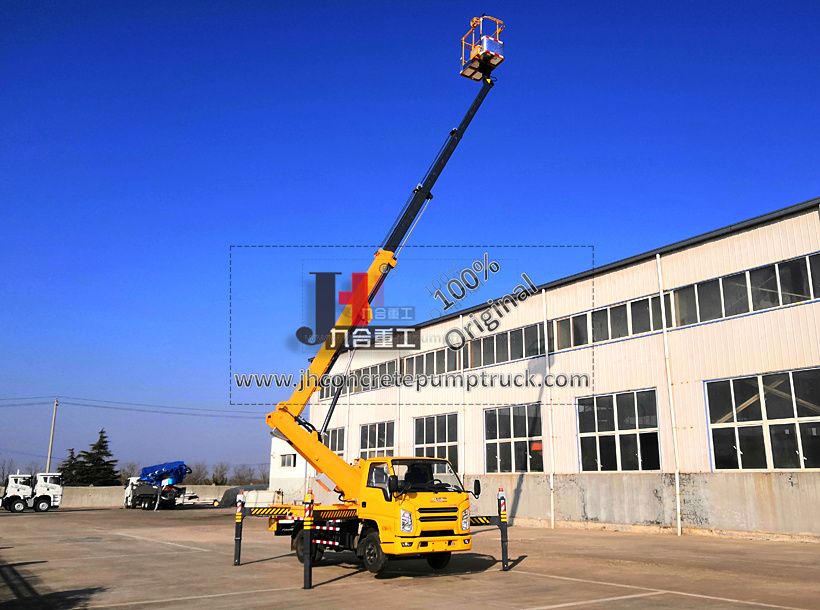 2. Excellent performance, wider working range
JHZ5042JGKJZ high altitude working truck,max. working height 21m, max. working amplitude 14.5m(80KG), working specification advanced than domestic same class products. Our machine adopt three section telescopic boom strech out and draw back at the same time, simple action, easy to operate, quick movement, wide working range; working platform postposition, set pedal for the platform, convenient for workers up and down.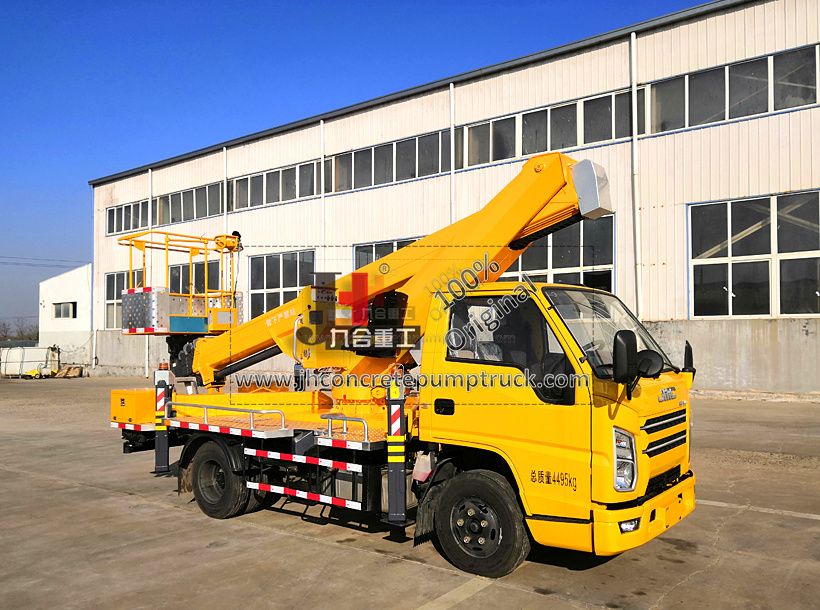 3. Wireless remote control, single hand operate comfortable and convenient.
Wireless remote control technology, ensure operator in narrow workplace, operate flexible and convenient, Eliminate the blind spot, better working vison, avoid operator to bear weather too cold or hot, can choose suitable place to fulfil operation; single hand can finish all main movement operation.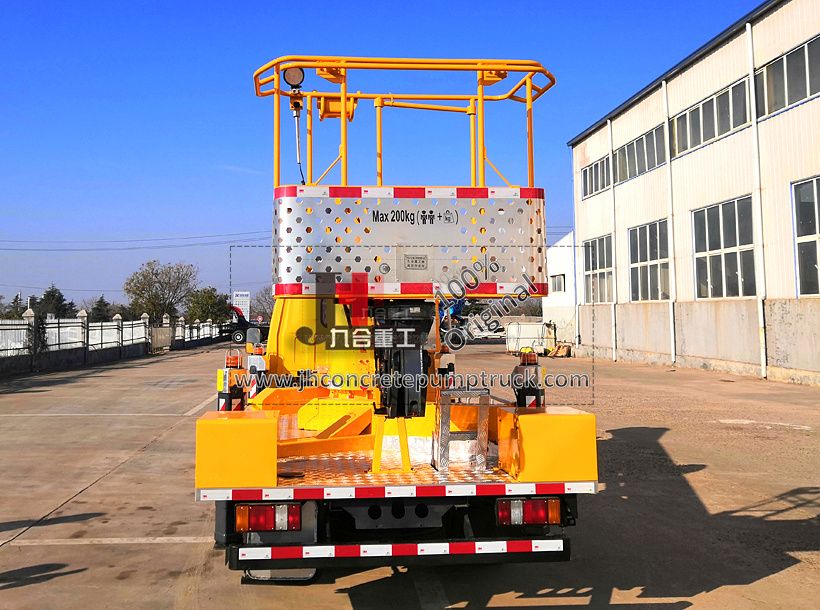 specification:
Type

Item

Unit

Data

size

total length

mm

5995

total width

mm

2100

total height

mm

2900

chassis

chassis brand

--

JMC

type

--

4*2

chassis model

--

JX1041TC26

Engine power

KW

85

steering wheel

--

Left hand drive

Emission standard

--

China 6

seat(include driver)

person

2

total weight

kg

4495

Main performance data

working platform rated load

kg

200/120/80

max. working height

m

21

operation range under max. working height

m

2.0

Max. working amplitude

m

11.9(200kg)

13.3(120kg)

14.5(80kg)

Working height under max. working range

m

5.1

Horizontal(front/rear)

mm

4300/3600

Vertical(left/right)

mm

4100/3945

woring platform rotation angle

º

±90

boom changing time

s

40≤t≤80

boom rotation speed

s/r

60≤t≤120

legs setting out and down time

s

80≤t≤160
inquiry: WE WILL CONTACT YOU WITHIN 24 HOURS